Split ends is too much and can't always be combed?
Get It, Solves dry, frizzy hair, No more pulling your scalp when you comb your hair
IT WOULD TRIM AWAY ALL OUR SPLIT ENDS WITHOUT TAKING AWAY LENGTH OR RUINING OUR STYLE.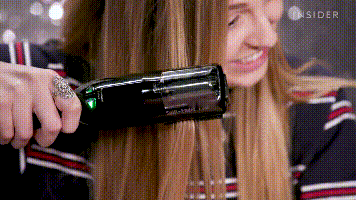 The thing is, when it comes to cutting our hair, we tend to leave it for as long as possible – because A, haircuts are expensive, and B, unless our hair is short, longer length is goals.
New SXA™ System Technology safely trims the ends of the hair where damaged hair ends and split end trimer starts while preserving the beautiful, long, healthy hair, ensuring that all the ends (split, damaged or dry) are trimmed and healthy.
What it is: A hair trimming device designed to safely trim the ends of hair that are damaged and split while preserving the length of the hair. The unique design means that the hair is uniformly guided through the teeth so that only the ends or damaged hair is trimmed.
How to use it: The hair then needs to be sectioned and divided into small pieces (around one inch) before it goes into the split end trimmer – kind of in the same way you'd use a pair of straighteners. Each section of hair should be 'trimmed' three times to ensure no hairs are missed.
Tips for using the Split Hair  Trimmer :
The device 'on button' is in the form of two arrow buttons, each facing different directions, and you should always select the arrow that faces to the ground – this is really important, otherwise you risk making the ends of your hair jagged.
For very curly or thick hair, it's better to use thin sections of hair between half an inch to one inch so that the teeth don't drag or tug the hair.
Glide the device slowly through the hair and don't pull or go quickly.
Empty the hair out as you go (SO satisfying) to keep the hair flow and blades from getting clogged.
Don't use the machine more often than every two months, and don't skip having a proper cut at the salon.
Shipping:
All orders are professionally packaged, prepared, and dispatched within 3 - 5 business days. We currently are offering our Premium Shipping FREE worldwide. The typical delivery time frame is anywhere from 10-20 business days. Depending on your location, you might receive items much earlier. Please check our complete shipping & delivery policies here also read the refund policy here.

Tracking numbers will be automatically sent as soon as the order is shipped. Sometimes there might be additional delays that are beyond our control such as customs or postal delays. Thanks for understanding!